Biden Tells College Graduates White People Are Greatest Threat to American Democracy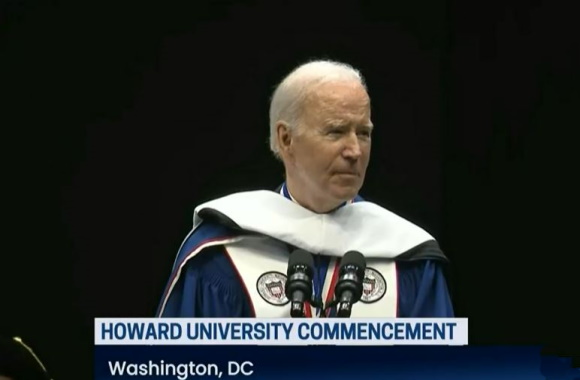 The mass mailer President Joe Biden stumbled his way through a commencement speech to a traditional black college that accuses white people of being the number one threat to American Democracy, not the DNC that colludes with the FBI and Justice Department to eliminate political opponents using Lawfare. In the blathering speech, the teleprompter President said, "The harsh reality of racism has torn us apart. It's a battle. It's never really over, but on the best days, enough of us have the guts and the hearts to stand up for the best in us, to choose love over hate…to stand up against the poison of white supremacy like I did in my inaugural address to single it out as the most dangerous terrorist threat to our homeland."
The speech revealed the DNC's campaign to keep the black voters on the DNC plantation in 2024, even as they lose more and more of that vote through the ineptness of the mass mailer President's ad hoc committee administration. The strategy is to demonize white people and promise anyone who actually believes the myth that white people invented evil that a vote for them, even it means losing their basic human rights, is a vote against the white devil.
During the speech, Biden also pushed the lie that former President Donald J Trump did not condemn the actual white supremacists that showed up for the Charlottesville fiasco, also telegraphing the DNC's ongoing commitment to use lies, misinformation, and half-truths to terrorize Americans so much they feel they can only be safe by supporting a new one-party Murica where individual liberty is sacrificed in the name of stopping the white devil.
Change the name of the race from white to black and ask yourself how racist, how violently racist, this man and the handlers that wrote his speech really are.